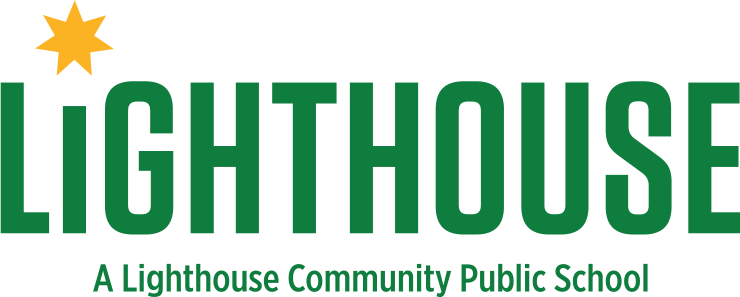 Core Values
COMMUNITY: We are best when we respect, value and celebrate our diversity and strengthen our connections.
INTEGRITY: We act on our shared and personal values, especially in the face of adversity.
LOVE: We extend ourselves so that all feel a sense of belonging and acceptance.
SOCIAL JUSTICE: We act with courage and commitment to move toward a just and equitable world.
AGENCY: We are empowered to pursue purposeful action as life-long changemakers.
Vision
At Lighthouse Community Public Schools we believe that all young people have the potential to become lifelong changemakers who realize their unique vision—rooted in their identity, knowledge, and skills—to create equity in their own lives and in the community, leading to a healthier, more joyful world. We are an innovative model for public education that puts each child at the center of their own learning. The Lighthouse community is equal parts love and rigor where children discover their unique light within.
Mission
The mission of Lighthouse Community Public Schools is to prepare a diverse K-12 student population for college and a career of their choice.
School Leaders
Tina Hernandez, K-4 Principal
Kate Bowman, 5-8 Principal
Drea Beale, 9-12 Principal
History
Founded in 2002 by a small, committed group of teachers and parents, Lighthouse operates a high-achieving K-12 public charter school, serving 750 students in East Oakland. Dedicated to serving a student population that has been historically underserved by the traditional school system, Lighthouse provides a much-needed, free, public option for students and their families. Lighthouse is comprised of two contiguous schools, one serving grades K – 8 and the other serving grades 9 – 12. Lighthouse's sister school, Lodestar, opened in Fall 2016 with plans to grow into a second K – 12 school. Lighthouse is a beacon for public education and our graduates fulfill the promise of a better, brighter Oakland. 95% of our graduates, almost all of whom are first-generation college students, are accepted into four-year colleges. We were named the Hart Vision Charter School of the Year in 2013, and the #1 high school for closing the achievement gap for low-income Latino students in 2016.
Location
Contact
Lighthouse Community Charter School
444 Hegenberger Rd.
Oakland, CA 94621
The school's main entrance is located in the Loop off the main Hegenberger Road.  The school is accessible by AC Transit (Line 73) and BART (Coliseum stop).
K – 8th Grade Phone:  510-562-8801
9 – 12th Grade Phone:  510-562-8225
Fax:  510-271-8803
Calendar
Family Involvement
Coffee Tuesday
Each Tuesday morning, Lighthouse parents gather to learn about pertinent school-related topics in the Lighthouse Family Resource Center. All parents are welcome to join at any time. No need to RSVP, just come and enjoy! Coffee Tuesday discussions are offered in English and Spanish. Call Maritza Ortiz at 510-562-8225 for more information about Coffee Tuesday.
Crew Parents
Crew parents are an essential part of the Lighthouse community, serving several important roles:
acting as liaisons between teachers, school, and other parents within each crew
assisting teachers with projects,
and encouraging other parents to get involved in the classroom and with the wider school community.
Crew parents meet the first Monday of each month at 8:45 am in the Family Resource Center. Any parent is welcome to attend Crew parent meetings at any time. Childcare and dinner are provided.
Parents are strongly encouraged to be in touch with your child's teacher and/or crew leader to ask how you can get involved at the classroom level through chaperoning fieldwork or helping in other ways.